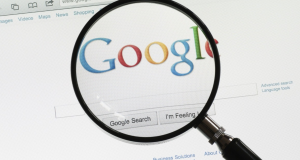 In the ever changing world of search engine optimization, there are still and always will be areas that Google relies on heavily when determining what your website should rank for. In this article, I will lay out some of the basic elements that Google looks for in your website to determine your website keyword rankings.
Page Titles & Descriptions
Each page of your website has (or should have) a page title. When you look at the current tab you have open on your browser, you can hover your mouse over the tab and it will tell you what this specific page title is. Google has a bot that crawls every single page of your website to determine what you should rank for. Your page title is the very first thing that Google reads from said page. Your home page title should contain the main keywords you want your website to rank for. See example below.

Along with your page title, each page needs a page description. This is mainly for click through rate purposes, but Google finds it important none the less. (Pictured below


From a beginner's SEO perspective, this is one of the first places your SEO company begins to implement onsite search engine optimization. It is very important to do keyword research to find keywords that you can competitively go after and see success from.
Website Content
Content is not only great for visitors to your website to fully understand what you are about and what services you offer, but it is also a valuable tool for the Google bot to use to determine what keywords are important to your business. When writing content, it is important to use specific keywords within your text to convey to Google, Yahoo or Bing that your website is relevant for those terms. The more content you create within your website, the more opportunities to use keywords you want to rank for. Though, you do not want to write a ton of content that is just repeating keywords over and over again. Google will see this as keyword stuffing and will penalize your website. The typical rule of thumb is to use 3 keywords a few times each within your piece of content. Make sure your content is well written, intriguing and gets your message across without looking spammy. When you are looking for a website design company or simply an SEO company, discuss the type of content you want to create for your website as well as important keywords your business needs to rank for.
Business Listings
While this step may seem like an easy one, it is far from it. If your company has a physical location, you will want to make sure ALL information is correct in every nook and cranny of the internet. There are hundreds of directory listings out there with your companies information, you need to make sure all of them are listed identical. A missed letter, a different variation of spelling, slightly different address or different phone number can all hurt your chances of Google ranking your local business higher. This is a very tedious task, though there are many programs out there that can help you with it. Your business listing is something you want to make sure is accurate on every platform.
Internal/External Links
Links in and to your website are something that search engines rely heavily on to determine the relevance of your website. External linking is when any given website around the web is linking back to your website, essentially saying to Google "Hey! This website is relevant for this keyword!" – Lets say you own and operate a donut shop in Dallas TX, and a local magazine writes an online article talking about best breakfasts in Dallas. They may include a link to your website within their article. This is called an External link. Google gathers all external links to your website and sees how the websites gave that link to you. Gaining these external links is a very important aspect when jumping up in rankings and getting above your competition!
While there are MANY and I mean many, different things that can contribute to the success of your websites rankings, these are the top 4 things to look for when starting your SEO! While more and more people are jumping to the internet to find companies to do business with, it is important you learn or hire an SEO company to take on the tasks at hand! Remember, search engine optimization is an ever changing game, but if you make sure to get the important things done right away, you can begin the upward climb to search engine prosperity!